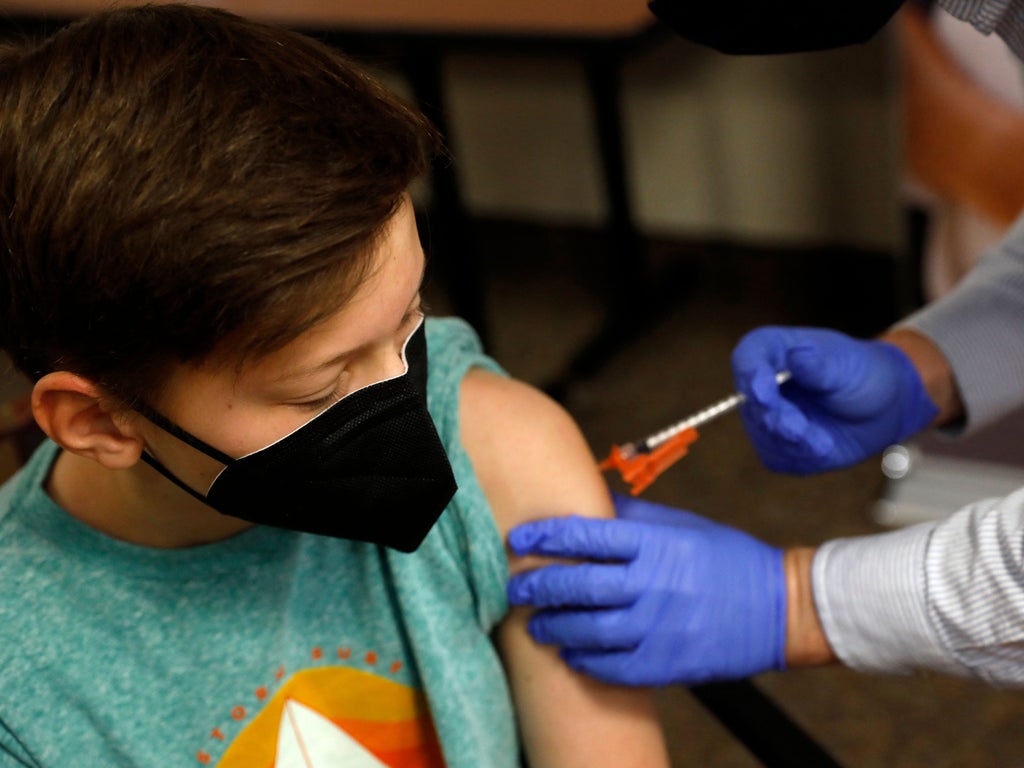 Children over 12 in the UK must be vaccinated "as soon as possible" in order to reach the vital herd-immunity threshold needed to suppress the exponentially rising Delta variant, scientists have warned.
The call came as it emerged that the Joint Committee on Vaccination and Immunisation (JCVI) will not make any decision until later next month – even though Britain's medicines regulator approved the use of the Pfizer/BioNTech jab for 12- to 15-year-olds three weeks ago.
Israel, France and the US have already started using the Pfizer vaccine in these age groups, but UK health officials are awaiting further data on the safety profile of the jab and rates of post-Covid syndromes in children.
Calling for older children to be urgently vaccinated, a number of leading experts said the move would help to better manage the UK's epidemic, protect adolescents from severe infection and long Covid, and could also lessen the need to roll out booster jabs.
"With the UK now in the grip of a wave induced by the circulation of the more transmissible Delta variant, any delay now is likely to have significant public health consequences," said Professor Aris Katzourakis, an evolutionary virologist at Oxford University.
"As these vaccines are shown to be safe for 12- to 18-year-olds and have clear direct and indirect benefits, it makes sense to open this up to younger age groups as soon as possible."
He described reports that the JCVI is unlikely to imminently approve adolescent vaccinations as "disappointing".
Dr Stephen Griffin, a virologist at the University of Leeds, said leaving millions of children unvaccinated would likely prevent the UK from reaching the "85 to 90 per cent" immunity threshold needed across the population to prevent the spread of the highly transmissible Delta variant.
This would allow the virus to continue circulating and infect unvaccinated people or those for whom the jabs don't work, Dr Griffin added. For these groups, the main source of protection comes from high vaccine coverage and limiting community transmission.
Professor David Salisbury, a former director of immunisation at the Department of Health and Social Care, said it was vital that older children are offered the vaccine because Covid-19 "is not a trivial disease with no consequence".
He pointed to data from the US showing that three times as many people aged 12 to 18 have been admitted to intensive care because of Covid compared with flu.
Meanwhile, one in every 100 infected children with Covid in England are hospitalised, amounting to almost 6,000 admissions since the start of the pandemic, according to government data.
"There is indeed a burden that is carried by young people themselves," said Prof Salisbury.
Of those hospitalised, approximately 750 children have also been admitted to intensive care with paediatric inflammatory multisystem syndrome (PIMS) since last April.
"That probably accounts for one in 5,000 to 6,000 children who have an infection," said Dr Liz Whittaker, a lecturer in paediatric infectious diseases and immunology at Imperial College London. She added that the "exceedingly low" risk of PIMS in itself is not enough to justify vaccination, but that the wider impact of Covid should be considered.
Data from the Office for National Statistics suggests that 13 per cent of under-11s and about 15 per cent of 12- to 16-year-olds reported at least one symptom five weeks after a confirmed infection. "Long Covid exists" in children, said Prof Salisbury.
Dr Whittaker said the data on long Covid in children was varied but said none of the different studies produced so far quantify how the condition is "impacting quality of life, the ability to play with friends, do sports, do hobbies and access education".
She added that the "biggest impact on adolescents this year hasn't been the virus, but the mitigations put in place in terms of closing schools and missing education". Vaccinating children should therefore be considered if education, mental health and everyday life is continually affected, Dr Whittaker said.
National figures from the Department for Education showed that a quarter of a million children in England missed school last week because of Covid infections, self-isolation or closures, making it the most disrupted week since schools fully reopened in March.
Teaching union and school leaders said earlier this month that starting a vaccination programme soon for teenagers could mean most secondary school pupils would receive two doses by the time schools begin the new term in September, minimising the risk of further disruption to their education. The government is said to have prepared plans to vaccinate children aged over 12 from autumn onwards.
As for the safeness of vaccinating children, the data is reassuring. Approximately 3 million doses of the Pfizer vaccine have been given to children in the US so far. There have been no concerns over life-threatening reactions or blood clotting.
However, there has been some evidence that the Pfizer vaccine is causing heart inflammation in a very small number of young men. Dr Whittaker said that not "an insignificant number" had ended up in intensive care, and that the JCVI is likely taking this data into account as part of its decision-making.
In terms of controlling the UK's epidemic, Dr Griffin suggested that building up immunity in older children could serve a more important role in reducing transmission rates than rolling out booster doses to people who need them.
Although children are far less likely to suffer from a severe Covid infection than adults, evidence suggests they are still capable of contributing to the wider transmission of the virus in society.


UK news in pictures
Show all 50
The two approaches "aren't exclusive", said Dr Griffin. "But if your cases are reduced and transmission chains interrupted by having a high level of population immunity, then that, for me, is easier [in managing the epidemic]. That lessens the need to re-vaccinate everybody."
Prof Katzourakis said "we don't know yet definitely if we'll need" booster jabs or how effective they will be, and that it was a "better investment" to roll out vaccines among children "given where we are at this particular point of the epidemic". However, he added, "that's not to say we'll never need boosters".
Some have meanwhile suggested that vaccinating children could divert doses away from countries who are struggling to inoculate their at-risk populations as a result of supply issues.
However, Prof Salisbury dismissed the argument. "If you were to vaccinate 12-17s in this country, that would be 5 million doses. It's such a tiny amount compared with the amount we've already committed to give and hopefully more will be given. It's not one or the other; it's both."
A DHSC spokesperson said the government would "continue to be guided by the advice of the JCVI and has asked for its formal recommendation. Ministers have not received advice and no decisions have been made on whether people aged 12 to 17 should be routinely offered Covid-19 vaccines."